Tumblr was originally conceived by it's creator, David Karp as someone to blog that looks great too - and a $1.1bn sale to internet grandparents Yahoo later it's still looking great. There's a wide selection of free and paid themes available to make your Tumblr look even better - so click through this gallery to see some of our favourite premium themes.
Society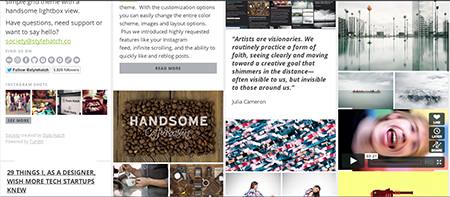 Society is definitely one for fans of Pinterest - taking the
innovative grid format from there, and applying it to your Tumblr. If you
click on a post it'll display it in an elegant "lightbox", dimming the other
content behind it - and what's more is that it looks great on mobiles too.

Think you know Assassin's Creed ? Prove it! Take our Assassin's Creed travel quiz