I must admit to being rather taken by the very retro, but in a futurist kind of way if that's possible, Mutewatch when it debuted a couple of years back. This was very stylish minimalist watch that boasts a hidden touch screen and a silent vibrating alarm.
You basically had to touch the screen and then swipe through its various options – clock, alarm timer etc. It was elegant intuitive and loads of fun. It really didn't feel like watch to be honest.
So it is great that the company is back with a trio of new versions of the Mutewatch in Nova Purple, Indigo Blue and Ivy Green. They retail for £199 and are available on Mutewatch.com from June 13, and in retail stores around the world from the beginning of July.
According to Mutewatch CEO, Mai-Li Hammargren, "The main goal of Mutewatch is to create simple tools with a retro feel, that help people manage the overflow of information we experience each day. Our aim has also been to create a pioneering, iconic design inspired by Rubik's cube and Swedish minimalism. After the introduction of the original colours, we are excited to create new products that our fans been asking for since we launched in 2011."
By Ashley Norris | June 19th, 2013
---
---
Must read posts: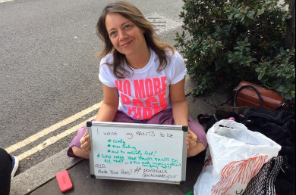 shinyshiny speaks to No More Page 3's Lucy-Ann Holmes...
---
---