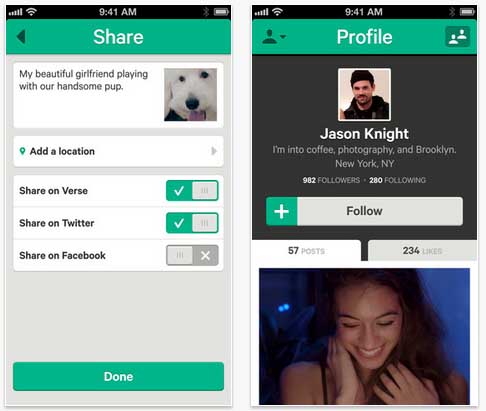 Twitter's new video sharing app Vine was only officially launched last week and we're already all creating short, silly clips of everything from our cooking exploits, ridiculous faces, morning commutes and lots of filthy porn too apparently.
As you'd expect from a brand new service there are those who aren't convinced and are being very vocal about it, labelling Vine a boring fad, but we're all about embracing new services, especially if they offer something a bit different and there are ways to avoid the naughty bits…
So here are five reasons why we love Twitter's new video app so far:
1. It's just so easy to use
If you really need it there's a quick walkthrough that shows you how to record your first Vine, but to be honest it's so simple and intuitive that we're confident you'll get it straight away. Just press the camera button and hold your finger down when you want to record something. You can do it all in one go or little chunks. You're then taken to a screen much like Instagram's, which allows you to add a caption, add a location or share with your social networks. Simple.
2. You can become a stop motion pro (kinda)
We've seen some pretty clever vines so far (we're calling the videos vines, that's OK, right?), but the ones that are particularly making us laugh are those that use basic stop motion animation in order to make things that don't move MOVE ON THEIR OWN. Admittedly these are the kinds of silly tactics that have made some people roll their eyes at the new app, but we just can't get enough of inanimate objects dancing around at the moment. Ask us in a week and we'll probably have a little cry about it.
3. Seamless Twitter integration (obviously)
Vine has been created by the team at Twitter, so as you'd expect there's seamless integration, which makes it really easy to upload to the micro-blogging platform, you can see vines within your stream and to embed a vine elsewhere you can easily just take the same steps you would have in the past to embed a tweet.
4. There's a sense of community already
Vine has been made by Twitter, but there are already plenty of people using Vine on its own and not necessarily sharing their creations with their Twitter followers every single time. Although we're encouraged to share our vines elsewhere (and many of us already do), just like Instagram we think we'll see circles of those that like to share their vines and make connections independently from any other service.
5. It's ideal for recipes or anything that shows a process speeded up
We don't doubt that there are thousands of weird and wonderful ways you can use Vine, but it particularly lends itself to following a process, like cooking something spectacular or getting to work on a morning. This means it'll be interesting for brands to tell stories, for people to record events, make tutorials and all kinds of other things…
And a few things we don't like…
1. All of the porn
We're not implying we're against porn here (or for it, stop putting pressure on us, OKAY?), but people uploading dodgy, adult content may well threaten the app for everyone.
According to reports this morning, a quick search for the #porn tag reveals all kinds of things you don't want to see over your breakfast. Vine itself is censorship-free and the idea is that the community will help to self regulate and flag up inappropriate content, but if people keep uploading dodgy stuff then Apple could wade in and deem it too x-rated for your poor, little eyes.
2. No ability to make things private (yet)
We get it, Vine and Twitter and social media generally is all about sharing and making your content public and accessible. But for various reasons that's an issue for some people, whether they're super secretive and a bit weird or have problems with stalkers. Although many people wouldn't use a private, locked option like you can activate on Twitter, the fact that option doesn't exist yet on the new app will definitely stop some people vining their way through the next few months.
3. Ads and ads and ads and ads
There aren't many yet, at all, but just like spam comments and weird ads have started to infiltrate Instagram a lot over the past few months, we imagine there'll make their way onto Vine pretty quickly. This is all the more reason to go looking for cool new content, but be aware that a new platform is really what you make of it, so follow great people and you'll have the best experience.
4. Babies, kittens and everything else we hate about the internet
All of the people that drive you insane with their incessant updates about cats and babies and food on other social networks will probably start using Vine at some point or another. So get ready for 64,348 vines of little Matilda crawling and crying. And crawling then crying. And crawling again.
5. It COULD all get a bit dull
The things that are getting us excited about Vine now, like cooking clips, stop motion thingies and silly voices could well start to grate on us a few months down the line. And when we say months, we mean hours.
If you haven't tried out Vine yet, then get it from iTunes for free.
By Becca Caddy | January 28th, 2013
---
---
---
---