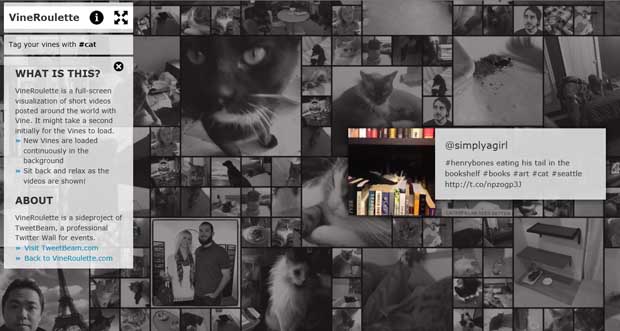 All we've spoken about, read about and written about today is Vine. Whether we've been lamenting our terrible camera skills, complaining about boring vines or wondering if we can get away with searching for #porn in the office (you kinda can btw).
It's no surprise that a number of third party tools have cropped up in a matter of hours that admittedly don't look very pretty, but do allow you to stalk away to your heart's content, because FYI all of your vines are completely public (for now at least).
First up is VinePeek, a site that shows you newly posted vines as they're uploaded. It's totally unmoderated and random, so expect everything from someone who doesn't know what the hell they're doing and only produces really lame content to a lot of x-rated porny stuff. In this way it's fascinating but also REALLY creepy.
VineRoulette is a bit different and instead allows you to search vines by entering hashtags, before displaying a grid of relevant (we use that term loosely) results. Again, we can't stress how creepy it is and it definitely makes it feel like we're stalking complete strangers, but WOW is it addictive.
By Becca Caddy | January 28th, 2013
---
---
---
---