Victoria Mole writes
If you're not prepared, present shopping (especially of the Christmas kind) can easily take you back to schoolwork deadline syndrome: you're not exactly sure that you're doing it right or whether it's enough; and even though you always vow never to do the job last-minute again, it becomes a torturous cycle.
Choosing a gift for your significant other can feel particularly stressful, especially if you've ever been given the look of disdain at times when you've exhibited how much of a stud with comic genius you are (how she could not be impressed with a handlebars Movember, who knows?). However, women really aren't that hard to please- in fact, they're the easiest people to buy for because all of the clichés apply. CFJ (chocolates, flowers and jewellery) are your go-to's for a reason, and the easiest way to satisfy the latter on all applicable occasions is with a charm bracelet.
A personalised charm bracelet from a high-quality and well-loved jeweller like Pandora is guaranteed to make your lady feel special. It's thoughtful and easy: but most importantly you will have a guaranteed present idea for every gift-giving occasion, you can just choose another charm from Pandora's collection. There's a charm for everything, so it whatever the occasion you can buy a charm and immediately win brownie points for being sentimental! With this in mind, we've had a look at all the best Pandora charms from Pandora Stockists John Greed Jewellery.
Pandora Silver Bracelet
Price: starting at £45 without any charms. There are also the 'My First Bracelet's and specially themed 'Complete Bracelet's, which come with at least a couple of charms- these start at £99.
Occasion: any
This is the essential starter gift and it is advisable to present at least one charm with the bracelet to start her collection off. The silver bracelets are so stylishly designed that they will still look beautiful with minimal charms.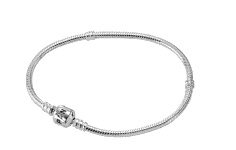 Silver & Red Enamel Love Letter Charm
Price: £35
Occasion: Valentine's Day, Anniversary
This cute charm featuring the encryption 'To My Love' on its side adds a splash of colour and sentimental value. When presenting this one, you can be creative: write your own love letter and place the charm inside. If sensitivity is not your strong suit, then this gesture will be all the more appreciated. Otherwise, if you are the sentimental type and your romantic style is on the cuter side of cringe-worthy, take it a step further and opt for one of the many heart-shaped charms- giving her your heart has never been so sparkly.
Pandora Christmas Stocking Charm
Price: £25
Occasion: Christmas!
This is a lovely item and one that you can say has sentimental value as it's too remember and celebrate perhaps your first Christmas together. Most women like to have some Christmas jewellery and fashion items in their arsenal come Christmas time, so this is a perfect seasonal gift. At just £25 this Pandora charm is definitely a winner.


Silver Stiletto Dangle Charm
Price: £35
Occasion: Birthday
Chances are your lady has a 'thing' that she can't resist collecting, and chances are, it's shoes (or handbags, there are charms of those too). The best advice when choosing a charm is to choose one that has personal significance- whether it contain her birthstone, be her favourite animal or even one that represents a hobby.
Silver Eiffel Tower Charm
Price: £40
Occasion: Holiday presents
Pandora charms are designed specifically to represent memories and experiences. There are charms of landmarks and animals that are associated with certain countries, which are perfect for bracelet owners who have been travelling. Think of particularly special days you've spent together, perhaps the first date- you will likely find a charm that represents the activity or reminds you both of the occasion.
Choosing gifts is not as much of a chore as it seems, although in this case, it may be the variety of charms to choose from that makes this particular gift more difficult to buy. Silver may not be magnetic, but any man who's walked past a jeweller's window with a woman who loves sparkly stuff will have undeniably noticed the attraction: a gift that gets that kind of reaction is more than worth it.


Sponsored post from John Greed Jewellery
Think you know Assassin's Creed ? Prove it! Take our Assassin's Creed travel quiz