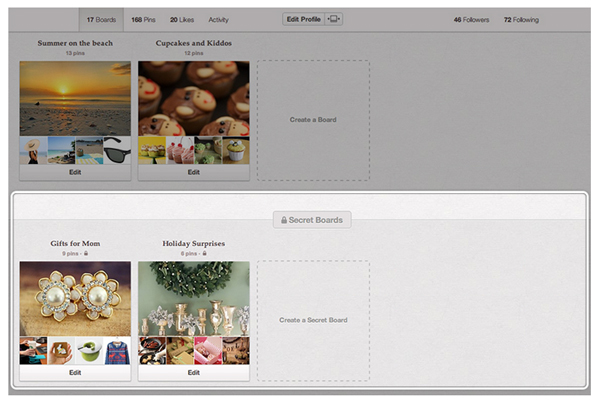 Today Pinterest announced that it's begun rolling out a much requested feature, super top secret boards to keep festive present ideas behind closed doors or collect big libraries of risqué photos, whichever you please.
Ever since Pinterest became really popular at the end of last year users have whined about wanting to keep their crafty boards and kitten photo collections private and now that feature will be arriving to both web and mobile versions of Pinterest in the next few weeks. The option to create a secret board is really easy to find and you can add people to contribute too, so if you're planning on some group secret mission together or working on a sensitive project more than one person can collaborate.
The whole blurb on the Pinterest blog about the announcement is (as we'd all totally expect) very twee and focuses on secret boards for Christmas crafty gift ideas or secret sweet santa presents or totally cute decorations. However, if like us secret means less "let's surprise our loved ones" and more "let's collect things in private we don't want anyone to see", then go ahead and create boards about your world domination plans, mild pornography or anything else that's a guilty pleasure.
Although we see the benefits of Pinterest, we must admit that here at Shiny HQ we've got a bit sick of it all recently. However, for those who have also been experiencing a bit of Pinterest malaise, the new private boards feature could reignite their interest in the bookmarking site again and provide users with a way of starting up a whole range of different projects.
[Via the Pinterest blog]
By Becca Caddy | November 8th, 2012
---
---
---
---