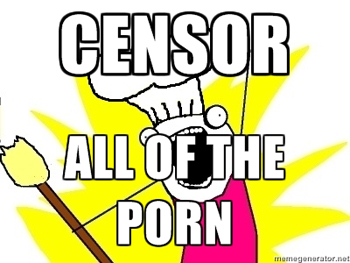 Lonely and frustrated porn lovers over in Egypt are about to get a nasty shock soon as the government is attempting to censor ALL pornographic content.
According to Reuters, earlier this week a public prosecutor ordered that all porn must be banned by the authorities:
"[It's up to authorities] To take the necessary measures to block any corrupt or corrupting pornographic pictures or scenes inconsistent with the values ​​and traditions of the Egyptian people and the higher interests of the state."
As you'd expect, many religious groups are standing by the controversial ruling, but others are concerned it's just a way to increase censorship of content in the country and will be the first official step in a string of more extreme restrictions.
Many pornographic sites are blocked in other Middle Eastern countries already, but there are some ways to get around them, as censoring all content deemed pornographic is obviously a near impossible task. However, concerns today are less about the fact that porn won't be as easily accessible as before and more about whether this is an ominous sign for what's to come.
[Via Reuters]
By Becca Caddy | November 9th, 2012
---
---
---
---