It seems the globe has been divided, either you're obsessed with Fifty Shades of Grey and spend every waking minute reading it, talking about it and fantasising that Christian Grey (the main guy) will scoop you up and do filthy things to you, or you're sick to death of hearing about it and want fans to die a slow death as you laugh at parodies.
Well if you fall into the second camp, this list is for you. Although there are hundreds of parody videos being created and eBooks being penned, we can always rely on Twitter for a good, NSFW, laugh out loud spoof, so here are our top picks of parody 50 Shades of Grey Twitter accounts:
50 Sheds of Grey (@50ShedsofGrey)
50 Sheds of Grey is definitely our favourite parody account, which like Fifty Shades of Grey is also concerned with erections, but solely of the shed-based variety.
Our favourite tweets so far:
"I was excited but nervous. I'd finally been accepted into the BDSM community – Builders, Decorators and Shed Maintenance."
"My whole body shuddered as she entered my Man Cave. I really must get a padlock for the shed door."
50ShadesofAndyGray (@50SOAndyGray)
A kinda NSFW parody account, which manages to take the mickey out of both Fifty Shades of Grey and Andy Gray, a former footballer and pundit who was sacked for making sexist comments. Expect to be amused, a bit grossed out and not at all aroused.
50 Shades of Shit (@50ShadesofShit)
This one is definitely NSFW and its bio reads "definitely not for the faint hearted". You can think of it as how the book would have turned out if Fifty Shades of Grey had been written by someone much dirtier who uses a range of crazy euphemisms for everything sex-related.
TheChristianGrey (@The_Mr_Grey)
This one is immediately not as funny, because its the parody account of the main guy from the books, Christian Grey, run by someone who clearly gets no sexual attention in real life and is loving the fact crazed fans are interacting with him. Worryingly some of the fans are talking to him as if he's real…
By Becca Caddy | July 9th, 2012
---
---
Must read posts: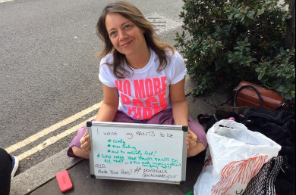 shinyshiny speaks to No More Page 3's Lucy-Ann Holmes...
---
---