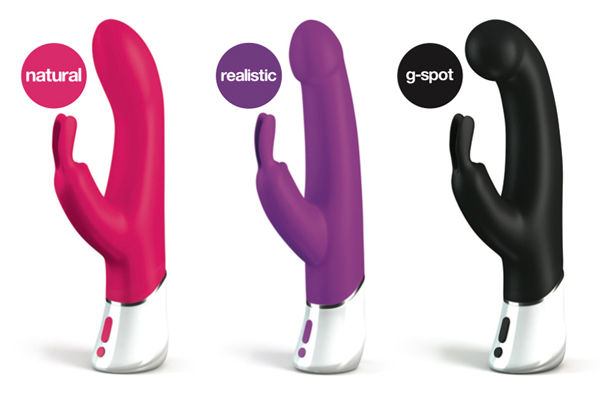 Lovehoney has given the classic Rabbit vibrator a revamp, making the new device sleeker, quieter and more powerful than ever. But does it look good enough to display in your room? We're not quite so sure…
The Happy Rabbit may sound like a cute viral video of a baby rabbit being tickled, awh, but no, it's actually a large vibrator and the latest reincarnation of the popular Rabbit vibrator made oh so popular by a guest appearance on Sex and the City back in the nineties.
Despite being the most popular vibrator on the market, naughty toy retailer Lovehoney has decided to improve the design of the Rabbit and asked its dedicated customers what they want from their sex toys, other than a private demo from Ryan Gosling of course. Sorry. And that's how the Happy Rabbit was born, it's sleeker, quieter and more powerful than ever with a no nonsense design, we're so over those silly swirling beads, choice of three different power modes and a mains rechargeable battery.
There's not just one Happy Rabbit either, there are three different types, natural, realistic and g-spot. Neal Slateford, the Co-Owner of Lovehoney and Head of Product Development, said:
"People have become used to great design, where their high-tech gadgets look sleek and are easy to use. The Lovehoney Happy Rabbit is the iPhone of sex toys – it'll look great on your bedside table."
The thing that struck us most here at Shiny Shiny (being into sex toys AND Apple product) is that it's being dubbed the "iPhone of sex toys", which we assume is a good thing. It's sleek and makes people rather excited, so we have no problem with that strange comparison.
But although we're all much more open about our sex toys nowadays, do we really want to display them and show them off like we do our Apple gadgets? We're not quite sure about that just yet…
The Happy Rabbit is available from Lovehoney for £49.99 and although it's not released officially until the end of May you can order one online now.
[Thumb image via
Mariken Mirri Rocks
]