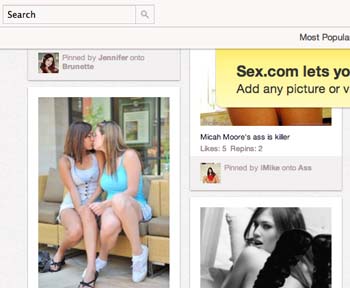 You've counted out your pennies and bought the most expensive domain name ever in the history of the whole wide interwebz, so what do you do with it? Well, you arrange naked photos of people in a cutesy Pinterest manner of course!
Earlier in the year the Guinness Book of World Records named sex.com "the most expensive Internet address domain name" after it was sold for a whopping $13 million at the end of 2011.
Since then the world has been waiting with bated breath to see just what fantastical things will be happening over on sex.com and now ladies and gentlemen the wait is over. The sickeningly rich people who bought the domain name have turned it into a super smutty Pinterest, complete with very similar fonts, layout and functionality. Ahh just what we needed.
There's a completely unnecessary explanation of sex.com's mission on the about page (which is unsurprisingly yet another blatant rip-off of Pinterest's):
"Sex.com allows you to gather, organize and share all the free porn you find on the web! People create pinboards to bookmark all their favorite porn videos & pictures. With just one click, you can pin porn from anywhere on the web and add it to one of your pinboards."
Now we have to admit, we're a little disappointed. Someone's parted with enough money to buy a small island, spent it on a pretty infamous domain name and all they can do is rip-off another site in a way that's about as subtle as a brick to the back of the head. But oh well, at least we've now all got a place to find porn, because I'm sure we're not the only ones who were starting to get a little worried about the lack of it online.
Oh and p.s. if you're going to take a little peek at sex.com in your lunch break, please be aware it's extremely NSFW and you WILL get a lot of… um… interesting pop-ups during the time you spend on it.
Related: 12 Pinterest alternatives and cool visual inspiration sites: Juxtapost, Fancy, Bo.lt
By Becca Caddy | May 3rd, 2012
---
---
---
---