Where can you get manicure tips from Zooey Deschanel, photos of Snopp Dogg posing with his new sneakers and cheesy snaps of Jamie Oliver's crazy-named kids?
Instagram has gone from strength to strength since it was first launched back in 2012 (yeah it's only two, what a bright little toddler it is) with all kinds of different people and organisations signing up for a piece of the photo pie, including brands, news organisations, fashion houses, sports stars and obviously celebrities.
The great thing about celebrities being on Instagram is that we feel like we're REALLY getting a sneak peek into their fancy showbiz lives, which is much more appealing than reading unsubstantiated gossip. Well, sometimes.
There are a LOT of cool celebrities using Instagram right now, but here's our pick of the top 10. Oh and feel free to add your favourites in the comments:
Related: 10 Best teen idol celebrities to follow on Instagram: One Direction, Bieber, Glee
By Becca Caddy | May 1st, 2012
Zooey Deschanel
Who is she?

Zooey is pretty multi-talented, she's an actress, singer/songwriter, model and even
website founder. She's known for being famous, quirky and the world seems so
puzzled that someone can be both intelligent AND good-looking. Crazy, huh?

Oh and it seems obligatory for both girls and guys to have a huge crush on Zooey
right now because she's currently starring in TV show New Girl and has helped to
set up one of our favourite websites, Hello Giggles.

What kind of stuff does she share?

Lots of cute and candid photos of her life, like nights out with friends, places she
visits, her nails and shoes.

Follow her: @zooeydeschanel
---
---
Must read posts: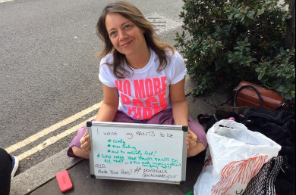 shinyshiny speaks to No More Page 3's Lucy-Ann Holmes...
---
---