First Draw Something, now Pinterest, it seems we're starting to bore of our favourite forms of procrastination here at Shiny Shiny. But do not fear, it seems that everyday a new Pinterest competitor is launched to excite us.
Whether you're looking for a site that isn't as popular, you feel a little wary about Pinterest's Terms of Service or you just fancy trying something new, then here's our most recent round-up of grid-like alternatives and other cool visual inspiration sites.
By Becca Caddy | April 5th, 2012
Fancy
A new social commerce website called Fancy has been on our radar since the
end of February, with many suggesting it's a high-end alternative to Pinterest.
Fancy describes itself as:

"Part store, blog, magazine and wishlist. It's a place to discover great stuff, to
curate a collection of things you love, to get updates on your favorite brands and
stores and to share your discoveries."

So it's basically Pinterest, but much more focused on how you can buy the lovely
things you've been staring at.

To collect content together from around the web you can install a 'fancy it' button
to your browser, just like the 'pin it' bookmarklet. You can then make friends,
browse through various categories and 'fancy' anything that catches your lovely
little eyes.

After a quick browse through all of the photos that have already been uploaded,
we think everything does look a little more high-end than Pinterest and, ironically,
rather fancy.

The money-making model is rather interesting, anyone can find a picture of
something another user has posted and can then offer to sell the product or find
something else like it and Fancy will take a bit of the money that's made from
sales. According to All Things D,
it works using a bidding system a little like Google AdWords, you can then sell
anything against an image.

http://www.thefancy.com/
---
---
Must read posts: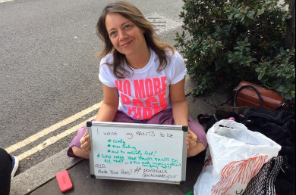 shinyshiny speaks to No More Page 3's Lucy-Ann Holmes...
---
---