This morning we came across a study that claimed women check their phones first thing in the morning and don't look at their partners enough (so what?!), and now this afternoon we've found some more female-slamming research, which claims women know plenty about household gadgets and very little about any other kind of tech. Charming.
No, you haven't been transported back into the 1950's, the research comes from a report commissioned by Amica kitchen appliances into the way men and women use gadgets and what they have trouble working.
According to the research that polled 2,000 adults, women have a hard time turning on their children's games, getting smart phones to work properly and figuring out what that elusive PC does, but feel comforted by household gadgets, such as (you guessed it) hoovers, ovens and washing machines.
Now we don't doubt that there are valid reasons why some women may be able to use kitchen appliances yet struggle with other products, but the general assumption that we're all much more comfortable away from the real world in the kitchen just frustrates us and doesn't set a good example for young girls considering a career in tech.
According to the study, these are the top ten gadgets us useless women just can't get our teeny tiny brains around:
Laptop – The little tray we provide our husbands with so they don't spill food on themselves?!
PC – A policeman?
iPhone – A phone for your eyes?
Blackberry – Oh like the fruit? We have a neat pie recipe that includes them!
iPad – Like a plaster for your eye? We'll go into our medicine cabinet to get you one…
Mobile Phone – I have one, I don't know where the on/off button is though…
MP3 – Is this our address?
Sat Nav – Is this the name of a new sci-fi film?
Games Console – A board game?
Digital Camera – I have one, I don't know where the on/off button is though…
[Image via
Mike Licht
]
By Becca Caddy | January 31st, 2012
---
---
Must read posts: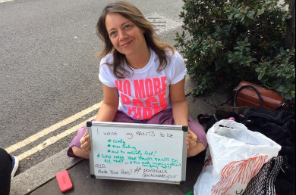 shinyshiny speaks to No More Page 3's Lucy-Ann Holmes...
---
---