It's safe to say A LOT of businesses, from Coca-Cola to that dodgy hairdresser on the corner of your street, have a Facebook page.
I'm sure if we were online marketeers or social media practitioners or 'Facebook experts' (LOL) then we'd be sat around discussing click through rates, return on investments, levels of engagement, numbers of followers and a whole host of other buzz words to gauge whether our Facebook page is proving useful or whether it's just a big waste of time.
However, we're not.
Often we couldn't care less about these kinds of stats, we like Facebook pages that are designed for brands or businesses we already feel a bit of an affinity to, ones that look good, don't overtly sell sell sell to us, have cool competitions or share interesting stuff. Nice and simple.
So which brand pages tick all of the boxes and make us want to give them an ACTUAL thumbs up, as well as an online 'Like'?
Well we've collected together a few of our top examples, including big brands, as well as a few that may be a little unexpected, because a lot of other lists only seem focused on whether the welcome page is shiny and bright, when really a crowded design can put us off a little bit.
By Becca Caddy | August 26th, 2011
Lush
https://www.facebook.com/lush.co.uk

Yes, I could well like the Lush Facebook page so much because I'm a fan of the
quirky little soap shop already. Yadda, yadda, yadda. BUT, Facebook really fits
with the cute and informal tone of the brand, so nothing seems too forced or
scripted.

A lot of the comments are responded to quickly and little polls about which
product you're enjoying, twee photos and details about new releases go down
really well among the community.

The Lush fans seem a little obsessed with old products that get re-introduced
and current products that might get axed, not only is this a testament to just how
loyal they are, but it means a big focus of the page is on the products, with links
through to the external website as well as a 'Going, Going…' section to give
customers forewarning when their favourite pink bath bomb is about to become
extinct.

At the moment the Facebook page is currently focused on responding to
comments and raising awareness of something called Secret Lush. I've no idea
what this means, but it looks interesting and I've completely fallen into its trap
because the fact it's secret makes me instantly want to find out more…
---
---
Must read posts: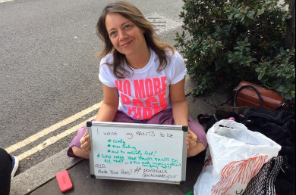 shinyshiny speaks to No More Page 3's Lucy-Ann Holmes...
---
---