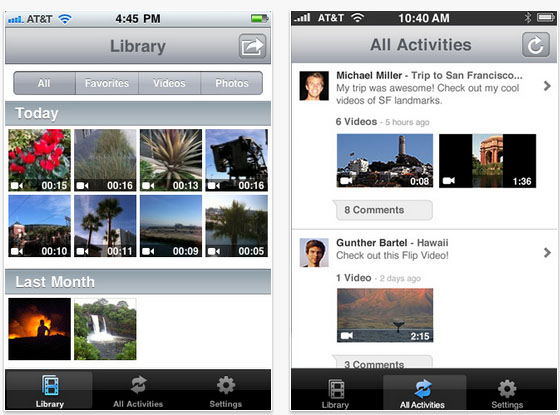 Camera-makers FlipCam have made a brave foray into the world of apps, by releasing an iPhone app that will let you share your Flip content to your friends' smartphones.
It's a brave move – in many ways, iPhones are rivals to Flips because they also pack medium quality digital cameras. But this could help Flip get a toe-hold in the market and lets face it – people are probably more likely to watch videos on iPhone/Android than to take them. It's a big video consumption device.
The new Flip apps will let you share video to anyone you like with an iPhone, iPad or an Android phone. A groups function will let you share with particular people. For example your mum will be able to watch the video you shot on your Flip cam on her iPhone without having to go via Facebook or Youtube.
It's a cut-throat market for digital cameras with phones soaking up much of the traditional market for cheap-end digital cameras. So this is interesting way to differentiate their device.
According to research by camera companies, most videos and photos are still only watched or looked at on the device they were taken on, but, as we move to a more cloud based internet, we'll expect our content to come with us whatever device we're looking at it on. Flip are keeping ahead of the curve here.
Flip gave out some more information on their app:
Features for Mobile Apps:
x Available for the iPhone, iPad, iPod touch or Android – with or without owning a Flip video camera
x Share up to five mobile videos and/or photos at once to Facebook, YouTube or Twitter – or send directly to friends and family
x Post a comment, share, or "favourite" a video with the click of a button
x Built-in filters let users quickly navigate and organise their video library
· Compatible with iPhone 3G or higher, iPod touch 2nd generation or higher, iPad
More on the new apps on Flipshare.com
+ on iTunes
+ on Android Market
By Anna Leach | April 4th, 2011
---
---
Must read posts: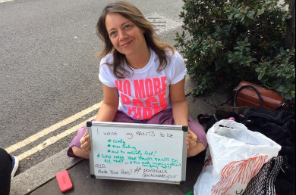 shinyshiny speaks to No More Page 3's Lucy-Ann Holmes...
---
---