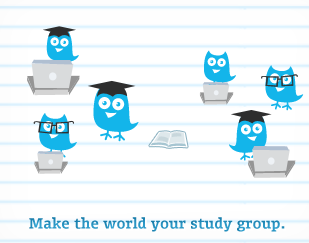 In the last few months a whole new breed of web based services have been cropping up, attempting to bring together social networks and academics. The idea is to make studying a bit more like using social networks, and find ways to help and encourage students with their academic endeavors. In theory this makes sense, especially when you consider the fact that many students practically live on Facebook.
The rush is now on as universities, entrepreneurs, and publishers, all attracted by the buzz of social media, seek to dominate this new area of the social networking market. The hope is that these new sites will make studying as simple as updating your status.
OpenStudy, is just one of these new social-learning sites. Started by Emory University and Georgia Tech in the US, the site went public in September. "Our mission is to make the world one big study group," says chief executive Phil Hill.
One of the main controversies surrounding these sites however, is the plan to pay students for their notes. This begs the question, will students use these sites as a study tool, or as a way to make a little extra cash? In addition, by profiting from the notes they have taken in lectures, are students not infringing on the Universities and/or the professor's copyright? In many ways it seems like these sites could easily turn into a more social version of the online essay factories.
Two of the main sites that have appeared are OpenStudy and GradeGuru. OpenStudy connects users who want to study free online educational content like MIT's OpenCourseWare the university's open, noncredit course-content sites.The company hopes to make money by offering a premium version of the software with more features. They currently have 11,000 users. While GradeGuru is a note-sharing site run by the major textbook publisher, McGraw-Hill Education. They pay students small rewards in cash or gift cards based on the popularity of their notes. The notes on the site are free to all users. There are no stats available on how many people are using this site.
Personally when I was in University I preferred to use my own notes rather than relying on friends. Note taking in many ways is personal, you jot down what interests you, things to read up on etc. Despite the fact that social networking is hugely popular, I think that studying is still largely an independent endeavor so it will be interesting to see how this latest trend plays out.
Into fitness and health gadgets? Check out our new site, Connected Health