Photo apps for iPhone are big business, and with pin-sharp high definition video on the new iPhone 4, we can expect video apps to become even more important. Of course it's one thing to make an app that puts colour filters on a photo – editing video is a lot more complicated and requires more powerful software.
Perhaps that's why the choice is currently pretty limited.
There's some very simple video editing software on board the iPhone 4, but all it really allows you to do is trim the clip. And while you can export video straight from your library, there is a limit on how large the clips can be.
What stands out right now is the lack of choice. This was supposed to be a Top Ten, but I just couldn't find enough apps to justify it. There are a bunch of less fully featured apps which do things like add sound effects to video, but there are only a handful that fully edit videos. Top of our list? See slide 2.
By Anna Leach | August 31st, 2010
iMovie
Made by Apple, this has similar functionality to Windows Moviemaker – letting
you trim clips and then piece them together adding in music and still photos.
And lets you theme the video with a filter including Modern, Bright, Playful and
News.  Criticism includes the fact you can't loop music, can only assign one
track to a video and it's not great for videos over 2 minutes. The interface is a
little tricky to work out.
£2.99 from  iTunes 

---
---
Must read posts: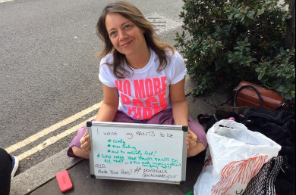 shinyshiny speaks to No More Page 3's Lucy-Ann Holmes...
---
---