It's a great phone and we're dying to get our hands on its slim flat back, glassy screen and retro-style buttons.
Anyway, no harm in filling the time till release date by browsing the internet for sexy cases, Apple-friendly headphones and imaginatively shaped docks. That's what we're doing anway.
Here are 10 more of our favourite iPhone 4 accessories.
By Anna Leach | June 17th, 2010
Customise your own sticker
Want to personalise your iPhone but unwilling to add any millimetres to the
slender 9.8mm width? A sticker is definitely the answer. Upload your own
design at AppStic. Perhaps you'd be better off going for something more artistic
than my effort above.
$1-10 from AppStic 
---
---
Must read posts: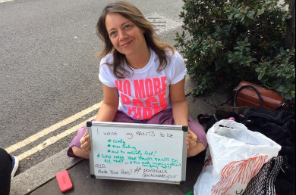 shinyshiny speaks to No More Page 3's Lucy-Ann Holmes...
---
---