With the pricing plans for iPhone 4 starting to filter through, it looks like aspiring owners face some pretty hefty bills for the next two years. While there are some cheaper contracts at the £20-30 end of the spectrum you sacrifice heavily on the minutes and texts available. However, providing you don't go overboard on your data allowance (sigh, hate limited data contracts) there are free ways to call and text people using the iPhone's internet connection.
Here are five iPhone apps that let you talk and write to your friends for free:
WhatsApp - this is my new favourite app. Plugging into Blackberry Messenger and other apps, it means you can message and instant chat your friend for free even if they're not on iPhone.
Fun extra: you can share your location with your friends. This is super useful when you're trying to find somebody.
WhatsApp, £0.59 on iTunes
Windows Live Messenger As the official app for this massive service, we're predicting this one is going to be pretty popular. You'll need a live messenger log-in
Fun extra: syncs with hotmail.
Windows Live Messenger free on iTunes
Skype As the grandaddy of all free internet calls the app is good as you'd expect. It lets you make free calls to other Skype users, and you can use your Skype account to non-Skype phones. However **WARNING** this app will start to charge for calls made over the 3G network at the end of 2010, as several commenters on iTunes point out, "That completely defeats the purpose of Voip. FAIL." Calls over wifi are still free of course.
Skype free on iTunes
Fring – A conglomeration of instant chat accounts, it lets you register your g-talk, Twitter, Skype and Yahoo chat accounts in one app. Messaging is free, the import contacts feature is good and the interface is smooth and easy to use.
Fring free on iTunes
Facetime – yes, Steve Jobs's killer app (video chat) will only work on wifi so this won't come out of either your data allowance or your talk minutes. However, it will only work from iPhone 4 to iPhone 4 which limits the contacts you can get
Fun extra: a silly name.
Facetime, native app on iPhone 4
By Anna Leach | June 21st, 2010
---
---
Must read posts: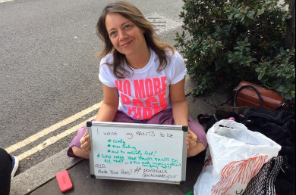 shinyshiny speaks to No More Page 3's Lucy-Ann Holmes...
---
---