Apple made a cull of a load of adult content apps a couple of days ago. 5000 apps such as "Suicide Girls" that had previously been approved for sale on the iTunes app store were removed by Apple because they (Apple) had received complaints about the inappropriate content of the apps. And according to Apple PR manager – the complaints were from women.
Apple told the New York Times: "It came to the point where we were getting customer complaints from women who found the content getting too degrading and objectionable, as well as parents who were upset with what their kids were able to see," Mr. Schiller said.
Predictably, the tech blogs are all up in arms about it TechRadar described it as hamfisted and indefensible. Developers whose profitable apps have suddenly gone under are angry (bbc) including various innocent victims like a swimwear retailer whose images of bikinis for sale fell foul of the new "no-bikini" rule. And freedom types in favour of the uncensored flow of information think it's not up to Apple to control what we look for on devices that we have bought from them.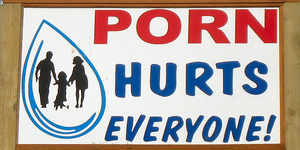 Well, since Eric Schiller mentions women as the main category of complainants, it gives the whole argument a bit of a gender twist. So, I thought I should slightly reluctantly haul myself onto the gender hobby horse and discuss this AS A WOMAN. Let me begin:
AS A WOMAN, yes I do think porn can be degrading and insulting TO WOMEN and yes it can make me feel uncomfortable, but yes I watch it sometimes. I suppose as someone who grew up with the internet I guess I've got a pretty lassiez-faire attitude to porn, if the participants consent fully to it and are getting paid enough – well why shouldn't they make money. Of course anytime the porn becomes coerced, non-consensual or illegal: from sex trafficking, anyone underage -that's wrong wrong wrong.
I think if Apple is going to draw a line, it should draw the same as the law and let people look at breasts if they really want to. It is their phone after all.
If Apple wants to protect children with iPhones it should perhaps have a parental controls option to the iTunes store or a separate adult section as has been suggested in many places.
Above all – and this is TechRadar's point – the line should be consistent.
Related: 4chan covers itself in glory again: porn disguised as pop videos posted to YouTube
By Anna Leach | February 25th, 2010
---
---
---
---