Sex blog TheFrisky.com - which runs a steady stream of vibrator reviews - summed the conundrum of Hello Kitty dildos this week by including it in both their list of most adorable sex toys and also their list of creepiest sex toys.
They say: "Hello Kitty, good-bye innocent childhood friend."
We say: yes, there is that problem.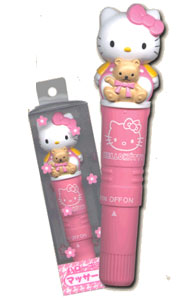 $40 from Babeland.com

Think you know Assassin's Creed ? Prove it! Take our Assassin's Creed travel quiz