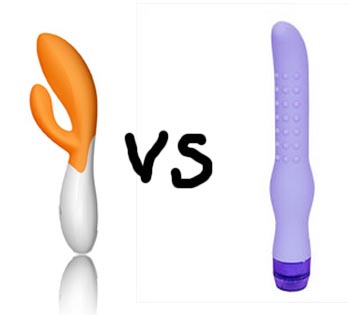 Top ranking sex toy makers Lelo have had to rebrand one of their new luxury vibrators, the Lola, a pronged vibrating dildo because another company has been making a Lola vibrator too. It's now called the Ina as in the Swedish girl's name, (we think).
What's with the name confusion guys? There are loads of female names… Can't you call these things Doris or Claire or Mabel? Well, seemingly not. So Lola, and now Ina it is.
We've pictured the two above…. Presuming that the competitor Lola was the Intimates Basics version from divatoys… Can you tell the difference? We imagine you can and you probably don't need to get very up close and personal with either of them to spot a few basic contrasting features.
The vibrator formerly known as LOLA (yes, now Ina) is a dual action vibrator featuring this exciting little prong with 8 simulation modes. It has two individual motors located in each stimulation point and INA's 'Circular Mode' "allows one sensual area to heighten to intensity, while the level of vibrations is restricted elsewhere".
We'll leave that to your imagination.
Intimate Basics' Lola is a more simple proposition. As the site puts it:
"Lola is great for deep G-spot stimulation, and as an external vibrator. This vibrator features an angled tip that works the G-spot while textured pleasure dots massage the vaginal opening."
And it's 7″ long, in case you're wondering.
The other key difference here is the price: at £16.99 the Lola from Intimate Basics is rather cheaper than Lelo's £99 Ina.
Depends which uh, end of the spectrum you're interested in looking at.

Ina from Lelo – £99
Intimate Basics Lola vibrator from divatoys – £16.99