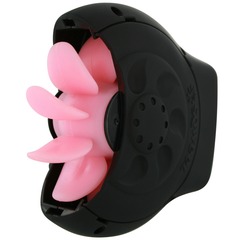 If you felt your pulse racing when you read the news about LoveHoney's new Sqweel toy yesterday, then we've got some news that will get you all excited.
The company is kindly giving away the new naughty toy to one lucky reader.
In case you hadn't had the time to read our previous post (we'll let you off just this once), the Sqweel is a wheel, of synthetic tongues that go round in a choice of three speeds.
Love Honey describes it as "a revolution in orgasms! The sensational new patent-pending oral sex simulator has a wheel of ten teasing tongues that will lap you to orgasm time and time again." In fact the company is so confident of this little miracles powers, that it's offering you your money back if you're not, well, satisfied.
If you want to get your hands on this then email me at Andrea@shinymedia or leave your comments below (keep them clean please) telling me why you think you deserve it. Competition closes on Friday.