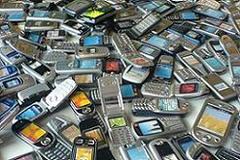 With that miserable and distressing grey cloud – aka the credit crunch – still hanging over our heads (and will be for the foreseeable future – eeek), it's nice to see mobile networks are doing their part to aid the cause and help us out in our time of need. We all need to talk and with credit crunch woes taking up vital brain space, paying for your phone bill or buying top-up credit only equates to spending more money and anguish. Thank god T-Mobile and Vodafone are here to ease the stress a little.
Both networks have announced brand spanking new offers that'll not only be kind to your bank account, but will benefit you hugely in terms of tailoring your contract or talk time to suit your needs.
T-Mobile wants to boost your mobile phone experience and Vodafone wants to offer you unlimited text messages. Sounds good doesn't it?
T-Mobile's Boosters wants you to personalise your price plan (contract or PAYGO) to suit your lifestyle. Whether you're into mobile browsing, texting, making International calls or simply after more minutes, T-Mobile's got you covered. Boosters are available in four categories – Talk & Text, Travel, International Calling and Internet; all of which are available in four price bundles – £2.50, £5, £7.50 and £10 – alongside existing plans. If you want to use more than one category, T-Mobile won't stop you – they want you to get the most out of it. Boosters can also be changed each month giving you complete control over your price plan.
Vodafone has opened the doors to its new PAYT price plan too, designed to recompense customers with free unlimited texts depending on how much they top up each month. In essence, this means topping up as little as £5 a month will bag you unlimited texts on weekday evenings the following month. Spend a bit more on credit (coz let's face it, £5 won't get you far)? Spend £10 and get unlimited texts in the evenings and on weekends and to get limitless amount of texts throughout the month, you're required to top up at least £30 or more. It's free to opt-in to and activation is simple – dial 2345 and away you go.
Credit crunch or no credit crunch, these deals will make even the biggest cheapskate smile.
More info on Boosters here
More info on Text Unlimited Vodafone here
More tech news here
By Lucy Hedges | September 2nd, 2008
---
---
---
---