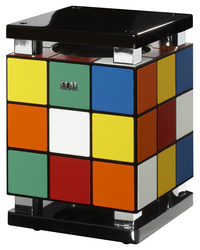 I've never been able to finish a Rubik's cube without cheating. Maybe it's my lack of patience combined with my rather poor Math skills but they've always baffled me. Thankfully this funky subwoofer requires no Mensa certificate to use as it's a plug 'n' play device that offers great sound in small package.
The Elac MicroSub 2010 BT uses Bluetooth to stream music from any enabled device, and you can also connect directly with an RC jack. The subwoofer has four amplifiers and provides a 2.1 sound-system optimized for music reproduction.
I like that it's completely vibration free which means it won't disturb your crockery no matter where it's placed, and as it's so minute it takes up a very small amount of space. It weighs in at 4.7kg and does come in two 'normal' colours of black and white. But who wouldn't want the coloured one?
See here for more audio news
By Zara Rabinowicz | September 1st, 2008
---
---
---
---