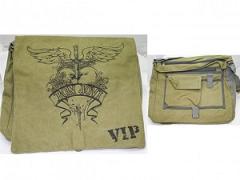 Raise you hands if you like this bag. These days, laptop bags can either go one way or the other – down the plain old boring or the must-have highway. Originally designed for special VIP package holders for Bon Jovi's Highway Tour, the Heart and Dagger Messenger bag proved so popular it's now been rolled out to those who couldn't afford the VIP status or make the tour. You don't have to be a die-hard Bon Jovi fan to even consider spending your hard earned pennies on this laptop bag. And if your friends don't like it, tell em' 'it's my life and I do what I want'.
The khaki VIP bag can easily fit a 15-inch laptop and has plenty of pockets and compartments to store your other gadgety bits. So you get your BJ bag, and you flaunt it as much as your rock loving heart desires, arriving in a blaze of glory every day to work, or wherever you'll be taking your new bag.
A true Bon Jovi fan will know how many Bon Jovi songs were just referenced. A prize goes to the person who guesses correct. A true Bon Jovi fan would also be the one's forking out for the $200 USD signed version. Not bothered about the autograph, get it here for $50 USD.
[via
Chip Chick
]
Check out more laptop bags here
By Lucy Hedges | September 24th, 2008
---
---
---
---