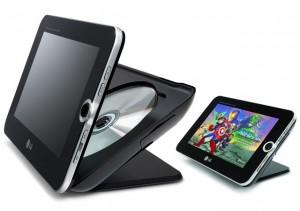 Digital photo frames are about as exciting as watching a documentary on documentary making or the old cliché, watching paint dry. LG must have heard our screams of monotony and ifIseeanotherdigitalphotoframeImightkillmyself pleas and has produced this fetching 8-inch Portable DVD Player and Digital Photo Frame. The name isn't too creative but its specs are.
See more after the jump…
It stores 250 pictures on its built-in memory and features a 3-in-1 memory card slot to get the rest in. Digital camera connection and extended memory is also made straightforward with a USB port. Now for the more important bit – the DVD player. The following DVD formats are compatible with the player – DVD Video/DVD+R/DVD+RW/Audio CD/CD-R/CD-RW – and it also packs audio/video inputs and outputs for you to use at will.
Unfortunately it doesn't carry the same cheapness associated with most digital frames and will set you back $279.95. However, Chip Chick found it for the much cheaper price of $199.99 here. On the plus side, you get to display your pics and watch a movie all from the same outlet and you can show off to all your mates about it.
[via
Chip Chick
]
Like this? Read these: LG DVD player looks good, works well, costs less| A-Data traps Mickey Mouse inside a digital photo frame
By Lucy Hedges | September 3rd, 2008
---
---
---
---