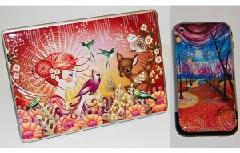 Since the release of that highly coveted handset (iPhone 3G to those who've been living under a rock for the past month), the amount of cases and skins being thrown our way is practically unbearable. The majority of them are identical, bar the name of the manufacturer slapped onto its outer body somewhere. That's what makes GelaSkins a cut above the rest. For a start they're not plain and ordinary so it's unlikely you'll come across someone sporting the same skin as you. And most important of all they're for a range of devices, not to mention absolutely stunning.
The GelaSkins collection is made up of exclusive art by a range of artists you've probably never heard of. But that's all irrelevant when you're showing off your brand spanking skin to your envious mates.
It doesn't just cater to the infamous Apple product. GelaSkins also produces skins for the RAZR, Nintendo DS Lite, the PSP, iPods, Macs and a range of other lappys too. It does give special treatment to the Apple family though, with downloadable matching wallpapers thrown into the iPhone and iPhone Touch packages.
Slip your gadgets into something sexy and vibrant here. Prices vary depending on what device you want wrapped.
Don't want to buy? Check out the gallery of skins here.
[via
Chip Chick
]
By Lucy Hedges | August 5th, 2008
---
---
---
---