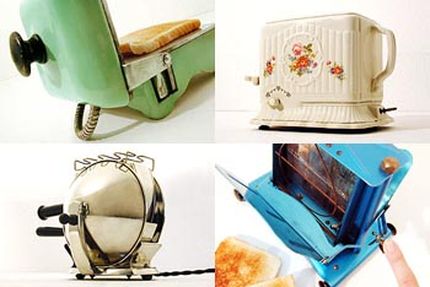 Look, I'm not obsessed with toast OK? There's no denying I like the stuff, but considering my recent posts here, here, here, here and here, you may be starting to think I smother myself in butter, apply slices and then go to bed and enjoy some alone time with it. However I'm afraid I have to introduce you to another toast related story, the Toaster Museum! Step inside and you will enter the world of those truly obsessed.
The museum is created by Jens Veerbeck a fanatic Toaster collector (hey, some people like stamps, some toasters OK?). He says that 'The design of each single toaster is like a small window to the design trend of the corresponding decade and country'. He started collecting over 10 years ago, and has amassed a collection that spans continents and decades.
The website showcases pieces from all over the world, from the
uber expensive toaster section to the ingenious. There's even a special Toaster specification section, where you can learn just what a Percher, Swinger and Tipper is in relation to the toasting world (the list goes on). That's knowledge I never even dreamed about.
I guess it just goes to show that however obsessed about something you are, there will always be someone who takes it to the next level. Nest step, a museum dedicated to kettles?
The Toaster Museum [via Elit Alice]

See here for more Web fun
By Zara Rabinowicz | August 1st, 2008
---
---
---
---