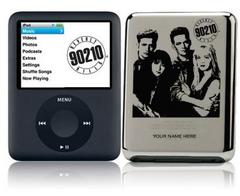 The teen stars of Beverly Hills 90210 have all grown up, collecting an assortment of marriages, rap sheets and questionable career moves amongst them. But they're back! And the new spin-off 90210 promises to be car crash viewing, by the looks of it.
But you can celebrate them in all their fresh-faced beauty, with this customised iPod Nano. With the faces of Brandon, Kelly, Brenda, and Dylan (complete with *a lot* of hair) staring out at you, it's hard not to yearn for a happier, sunnier time past, before Shannon Doherty did time and Tori Spelling became a reality TV harlot.
[via
Chip Chick
]
More iPod news? Click here.
By Susi Weaser | July 30th, 2008
---
---
---
---