This isn't any ordinary iPod speaker – this is the Sex and the City GraytlittleSpeaker. So, basically it's a bog standard portable iPod speaker, given a funky name with Sex and the City illustrations emblazoned all over its outside walls (that is unless it has some Samantha, Miranda, Carrie or Charlotte commentary to accompany track changing – which it doesn't). Covered in a fabulous shade of pink, with a martini glass and a pair of heels (got to be Manolo Blahniks), the design will hopefully make you think of cosmos, Mr Big, high fashion and sexy shoes.
Not a fan of the famous foursome? You could always go for the same speaker but lose the SATC reference. This will only excite those into the Sopranos or Entourage – not so much if you love Heroes. Both speakers are similarly branded, so that means (yep you guessed it) Sopranos or Entourage style imaging (which isn't an obvious reference to the actual show) gracing its outer shell. The lack of effort in the design makes sense when you find out these portable iPod speakers cost a very reasonable $20 USD here.
[via
Chip Chick
]
More audio here
By Lucy Hedges | July 30th, 2008
---
---
Must read posts: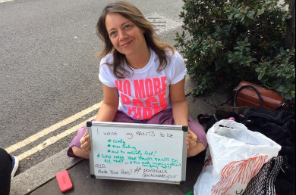 shinyshiny speaks to No More Page 3's Lucy-Ann Holmes...
---
---