Have I mentioned that I think Etsy is pretty much the best thing since some genius put cheese in an aerosol can? Because I do. I really, really do. For example, today, by way of GeekSguar, I discovered the Monster Computer Cozy from Etsy seller Beckaboo. How cute is he?? Beckaboo says that Monster will "protect your precious laptop from scuffs and scratches" and will also "hold your laptop safe and snuggled, but he won't be able to help you from crazy viruses that attack in the night".
The thought of this little dude snuggling my precious laptop at night is almost too much to handle. The Monster Computer Cozy is 9.5 inches by 13.5 inches and Beckaboo says it fits her iBook perfectly.

The Monster Comptuer Cozy is $3-$5 depending on your location
Like this? Try the Monster Laptop Bag
By Cate | June 4th, 2008
---
---
Must read posts: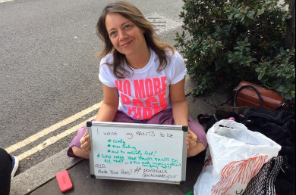 shinyshiny speaks to No More Page 3's Lucy-Ann Holmes...
---
---