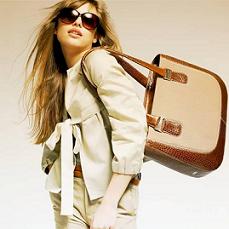 Show your laptop some love. Treat it to something pretty and hopefully in return it'll stop freezing on you, Blue Screen of Deathing on you and participating in a go slow movement. These bags might be just the answer – they have been styled to fit around your lifestyle, hence why they look so damn good. As well as being a very nice range of handbags, they're not conspicuous laptop bags, so you're not going to look like The Girl Who's Just Come From a Meeting.
The range is made-up of mock-croc leather bags, earthly palettes and canvas panelling, giving a firm nod to safari chic which has been dominating the catwalks recently.
Clearly style is the main emphasis on these bags, but this doesn't mean laptop safety suffers. All Knomos are designed to fit securely and safely around your laptop.
The Melilla and Lausanne bags are available in small handbag and large workbag sizes (13-inch and 15-inch sizes), in tan leather/sand fabric or in black leather. The limited edition mock-croc version is exclusively available in 15-inch only. Should the worst happen and you lose your Knomo bag, its tracker tag ID will help you retrieve it. Rest assured you'll be carrying around your lappy in a very fashion-conscious accessory.
Prices start from £150 to £195.
Like this? Read this: Quilted laptop bags from Knomo

By Lucy Hedges | June 27th, 2008
---
---
---
---