Clearly camcorders are the product of the moment, with the Flip, the Vado and the Aiptek all being released in quick succession. Next to the stand comes the Small Wonder models from RCA, which are released in three version, the Traveller Ez210 (pictured here), the Pocket EZ205 and the MyLife EZ200. All models have removable memory, and they're priced from around £50-£85.
The Traveler has a 2.4 inch LCD screen and is splash proof as well, if you're using it near a pool. It has a 2GB SD card that records up to an hour of DVD quality footage and 4 hours in Web Sharing mode.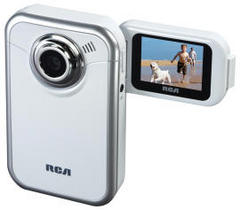 The Pocket (left) has a 1.5 inch screen, and offers self recording and a 1GB memory card. It's also good for recording in low light conditions and can be customized with different skins to make it more personal. The final camcorder in the stable, MyLife has skins for customization, a 1.5 inch LDC screen and a one GB memory card (yes, pretty identical, I know)
All are available in Summer from Amazon
[via Crave]
See here for more cameras
By Zara Rabinowicz | June 12th, 2008
---
---
Must read posts: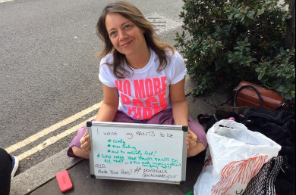 shinyshiny speaks to No More Page 3's Lucy-Ann Holmes...
---
---