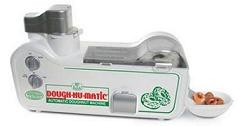 There are *a lot* of secret doughnut lovers here in Shiny Towers, and I've noticed Fridays have slowly become 'yay doughnut day'. So when I saw this I had to share my find. I'm sure as you read this it will probably occur to you how much you love doughnuts too.
The Dough-nu-matic fries mini-doughnuts in just under a minute and then does something really spectacular. It produces them on a mini conveyer belt which rolls straight onto your plate. I'm quite certain that if you remove the plastic catch at the end, you'll be able to catch them in your mouth – Homer Simpson style.
It's not clear whether or not you'll be provided with the dough or whether you're gonna have to buy a big bag of doughnut mix from some kind of wholesaler. This could very well act as a deterrent to the downright lethargic. There's also something very Krispy Kreme-esque about its design. Perhaps that was purposely done to make KK fans subliminally feel the urge to purchase one.
It's $130 USD from the Dough-nu-matic website, and remember, 12 doughnuts in under six seconds. Brilliant – *wipes tear from cheek*.
[via
Cruch Gear
]
Like this? Take a peek at this: Two Food-Related Gadgets I Can't Get My Head Around
By Lucy Hedges | May 29th, 2008
---
---
---
---