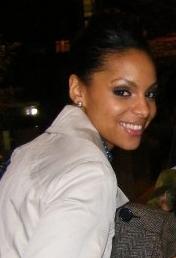 You might have noticed a new web-face here on Shiny Shiny, in the form of our wonderful new editorial assistant, Lucy Hedges. She's been with us for about a month, so I thought it was high time we delved into her brains to find out all about who she is and what she's about.

Name: Lucy Hedges
Shiny Job: Editorial Assistant for Shiny Shiny
Hometown: Lee, London
Five favourite web 2.0 sites (besides Shiny ones): YouTube, Facebook, Wikipedia, MySpace (to listen to friend's music) and Twitter (very recently).

Last three books you bought: 'City of God' by Paulo Lins, 'Don't stop me now' by Jeremy Clarkson and 'Murder most fab' by Julian Clary.
Last 3 gigs you went to: The Memphis Underground (my friend's band), Prince and Bloc Party.

Last three albums you bought: I don't do albums. I generally don't like to listen to one particular artist/band's album. Let's rephrase the question – Last three songs downloaded: Strangely (and totally true) 'Johnny be good' (Back to the Future soundtrack), Missy Elliot's 'Why you all in my grill' and 'Great DJ' by the Ting Tings.
Last 3 DVDs you bought: Don't Be a Menace to South Central While Drinking Your Juice in the Hood, the Lost (series 3) box set and the Saw box set.

In the film of your life you'd be played by: Thandie Newton or Jessica Alba.
What song would you pick for the soundtrack to your life: 138 Trek by DJ Zinc (garage). I've loved this song since I was 16. Eight years later it's still my favourite tune. The love will never die.
Which female and male 'sleb would you do the dirty with: I can't decide between Adrian Grenier, Wentworth Miller and Tyrese. Let's go with all three. Female, I'd have to say Christina Milian.
Favourite beach: The private beach at the Trelawny beach hotel, Jamaica.
What have you got in your pocket: A lighter and a random piece of paper.
What colour toothbrush do you have: A yellow one.
What song do you want played at your funeral: That's a tough one and I don't actually know. All I know is it's gonna have a lot of base and will make people smile rather than make them miserable.
Tell us one secret about you that people wouldn't expect: I have a blanket and I suck my thumb
If you were a car, what would you be: An Aston Martin DB9 convertible.
What is your favourite item of clothing: It used to be a pair of ripped jeans (personally designed by me). But, sadly, due to an incident that resulted in a tear going too far, I can no longer wear them. Now it's my blue and white striped dress from Ted Baker. I don't know what I would have done without it.
What colour pants do you wear (stolen from Smash Hits circa 1991): No particular colour. My underwear drawer is full of different colours.

What was your first alcoholic experience (stolen from Pop Bitch): Me and a few friends persuaded a random passer-by to buy us some vodka and alco-pops. We drank that and then went to a party where there was even more alcohol. Let's just say, by the end of the night I was feeling and looking very rough. The strobe lighting in the party made me feel sick, and I later was over somebody's shoes (whoops). I needed to be escorted home only to be greeted by my parents. That sobered me right up!!
If you were a videogame character who would you be: Chun-Li from Street Fighter. She kicks arse and looks good. I'd like to think that's a bit like me.
Like that? Read this: Meet the Blogger: Susi Weaser
By Susi Weaser | May 7th, 2008
---
---
---
---