OK, this shit is weird – totally fulfilling a niche I was unaware existed up until today. According to Firebox, ice cream sodas are a big part of summer (just think, I've only had half a summer every year, totally unaware of what I was missing out on). But the logistics of mixing ice cream and fizzy drinks on the move can be a bit of a mission. Well, no longer!
Now, you can fix this contraption to the top of your bottle, load it with ice cream, squirt up the drink and hey presto, bob's your mother's brother – an ice cream soda.
As I said, weird.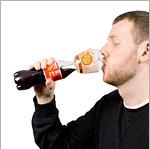 In return for this, you get to look like the man in the picture. Fetching, no?
You can get yours from Firebox for £6.95.
By Susi Weaser | May 16th, 2008
---
---
---
---