Everyone works hard in today's society. We get up early, work long hours, and are constantly multitasking, juggling phones, emails and meetings with style. Well clearly it's about time our gadgets shaped up too, and this cute clock has stepped up to the challenge. It combines a multi-coloured mood light with a digital clock display, plus 4 USB ports, which would come in handy in our gadget heavy office. I also think it would add quite a nice aura to the desk with its constant changes of colour, letting you cycle through 'red' and 'purple' moods with ease. Let's forget about blue for now, eh?
$15 from Gadget 4 All
Like that? Read this: A USB hub that opens your letters and tells you the time
By Zara Rabinowicz | April 8th, 2008
---
---
Must read posts: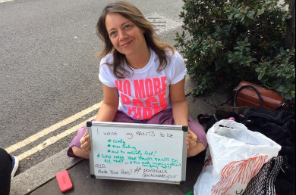 shinyshiny speaks to No More Page 3's Lucy-Ann Holmes...
---
---