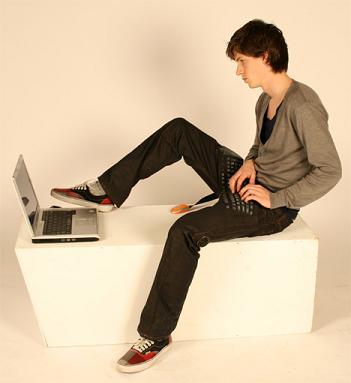 Have you ever wondered what it would be like to wear a pair of trousers with built in keyboard, speakers and mouse pad? Well, wonder no more, as designer Erik De Nijs has transformed this incredibly geeky idea into a reality. This is not necessarily a good thing.
Yes, they have serious geek credibility but they are also hugely impractical (not to mention quite unattractive). I'm sure you've also noticed the inappropriately placed keyboard – which leads me to think this has been designed with women in mind.
You know, a gentle tap of letters F-K might leave some women smiling pleasantly to themselves while typing away. Take a quick glance at the pic and you'll totally get what I mean.
I can't see these peripheral pants catching on but there are always a few – perhaps with hidden agendas.
For more quirky computer accessories click here
By Lucy Hedges | April 24th, 2008
---
---
---
---