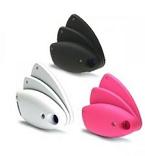 Earth Day seems to be having a rippling effect. The celebs are out (again) promoting some sort of gadget. This time it's the younger end of the Hollywood scale and they've gone all green. No not from the sick feeling they get each time they take a glance at how much money they make – or is that just me then? They've gone environmentally friendly for teen mag KEWL.
One of the gadgets they've been pluggin' is the Solio cell phone charger. God forbid that you still charge your mobile via an electrical socket (vile beings) or through that ghastly hole, also known as a USB port!! You need to get with the times (more like the latest fashion.) I can totally envision their houses/hotel suites kitted out with the latest solar equipment (yea right).
Just a few inches long, the solar chargers are portable and can charge your device in about the same time as a USB port. If direct sunlight isn't available, you'll be forced to go back to your old naughty electrical ways. Although Solio completely disregards these options if natural energy isn't available – very clever.
[via
Gizmo Republic
]
For more gadgety celebrity news click here
By Lucy Hedges | April 25th, 2008
---
---
---
---