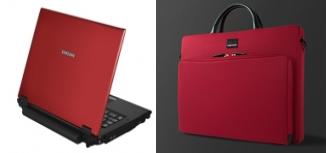 If you're on the lookout for a new laptop you could do worse than go for this lovely red option by Samsung. The Q45 provides you with 200GB of storage, a DVD±RW player and a 12.1 inch TFT screen. It also has a 1.3 megapixel integrated webcam and a 6-in-1 card reader. Best of all, it comes free with a designer Chili Pepper laptop bag, which normally retails for £125.99! Bundled together, you can now be the proud owner of this sexy red package for a mere £663.99, not a bad deal considering what you're getting. The laptop bag as a lovely silk lining as well as multiple pockets for everything you might need.
£663.99 from 21t century Diva
Like that? Read more about laptop bags here.
By Zara Rabinowicz | April 3rd, 2008
---
---
---
---