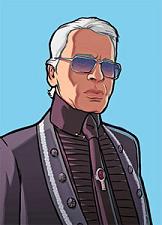 From the vaults of 'you couldn't make this up' comes the news that noted fashion photographer Nigel Barker designer Karl Lagerfeld, the creative director of Chanel, is going to appear as a character in the forthcoming Grand Theft Auto It's due on the 29th April, fashion/crazy driving fans. And yes, I totally had to check with Ms Catwalk Queen to find out which fashion house he worked for…
Not only is he getting cartoonified, he's also going to feature as one of the radio DJs who's station you can listen to whilst playing the game.
He was introduced to Rockstar Games via Daphne Guinness, and is quoted as saying "I prefer to be in a video than to play with it, I would love to be a very nasty, politically incorrect character."
More politically incorrect than the driver who mows down nuns?
[via
Catwalk Queen
]
For more gaming news, check out our gaming blog, Games Digest.
By Susi Weaser | April 8th, 2008
---
---
---
---