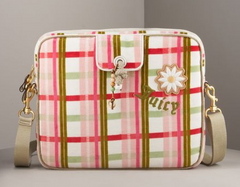 It feels like Spring, doesn't it? Despite a freak bout of snow last weekend, we have daffodils blooming, blue skies and a little bit of bounce to our steps. Hey, Glastonbury tickets are on sale for Pete's sake, that has to mean something! Well, get properly in the spirit by purchasing your laptop a pretty new case. Though not normally a fan of Juicy (I'll spell it out for you – pink velour) I have to say this pretty plaid case really appeals to me.
I like the little daisy motif and bag charm as well, and feel it would really get you in the mood for the bright weather to come. It has a removable shoulder strap, a zip top, and is trimmed in gold to add a little sparkle. There are two other colour options, pink and grey if you want something a little more subtle.
$125 from Neiman Marcus [via Geek Sugar]

See here for more lovely laptop cases.
By Zara Rabinowicz | April 10th, 2008
---
---
---
---