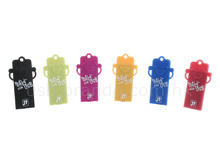 Ahhhh, it's soooo tiny and it's soooo cute. That's about it. This is the very fashionable bright and stylish simple Jt Baby USB Flash Drive.
It's this size for a very good reason. Attach it to your mobile or a set of keys, so it hangs like some sort of charm. All your data and important information can then go wherever you go (if you feel you need to be that close it). Or you could just put it in your bag like ordinary folk.
Is it me, or does it just look like plastic tat? Even as a keyring or a phone charm it doesn't look very impressive. With the great range of USBs currently on the market (available in all sizes) this seems kind of sad in comparison.
Choose from a variety of six bright, in-your-face colours and prepare for people to ask you "what's that thing hangin' off your phone?"
Available from Brando
For more computer accessories click here
---
---
---
---
---