Is there nothing doesn't turn its paint pots to? Now Guitar Hero guitars can be customised colourfully, with a choice of Wii, Xbox 360 and PS3 versions all costing at least $99 to pimp. You can, as ever, buy the gadget new but the price is doubled. I've Shiny Shined this Wii guitar to give you an idea of how it could look. However, note that the extra flourishes of colour on the fretboard and buttons are $10 each; I quickly piled up a cost of $139 ($228 new), so you might want to keep a handle on your creative streak.
For more Nintendo news, don't forget to visit WiiWii or check out our very own gaming category.
By Staff Writer | April 2nd, 2008
---
---
Must read posts: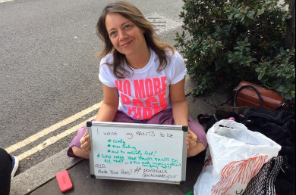 shinyshiny speaks to No More Page 3's Lucy-Ann Holmes...
---
---