Ireland's known as the Emerald Isle for a reason, and green has long been the colour associated with the drinkfest that is the celebration of its patron saint.
While you're swigging your Guiness tonight, why not ensure one of these sparkling green gadgets is in sight so you can feel a little mock patriotism (unless of course you are Irish in which case it can be real).
1. Sony Ericsson K660i in lime green
This isn't the first time Sony Ericsson has got all excited about a green gadget – remember the "Mysterious Green" S500? But lime green is apparently THE colour for Spring 2008, replacing the winter's purple shades, so the accents on this Internet-friendly handset are distinctly grassy.
2. G-Cube Green Webcams
Ignore the pink lady up front, green is the colour for these little portable webcams which are cheap, cheerful and designed to be snapped on to any laptop. They're supposed to zoom "to infinity", which might be a little bit ambitious, but regardless ought to be a handy budget-friendly way to show off your actual or adopted heritage over an Irish coffee whilst Skyping and blogging in the local Evil Coffee Empire.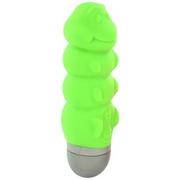 3. Baby Bug Mini Vibrator
If you're not a big drinker perhaps you could find another way to have fun… The bobbly, caterpillar inspired Baby Bug Mini Vibrator is happy to step in an help, although you might have to get over the laughter before you can get much else out of it. Personally I'm not keen as it reminds me of a toy I had as a small child (ew) but since keeping a good sense of humour is all-important in the bedroom I can see it being popular. Besides, who said your bed can't be decked out in fashionable colours?
4. Green Laser Pointer
Apparently the Jasper Keynote's green beam provides brightness of fifty times the normal red dot, so however far away from the screen / short / geeky you are, no-one will have an excuse to ignore what you're trying to show them. Somehow I can't help but think of (Dr) Ross Geller right now…
5. Green Frog Paper Shredder
Why not celebrate all things green and actually be green at the same time (see what I did there?)? Shredding and then recycling your paper waste is a good idea for both privacy and the environment, and this frog-shaped shredder can give your home office a slightly less industrial appearance. Turning the handles pulps the contents into compostable form; hey, isn't that equivalent to an hour-long workout at the gym…?
So there you go – all the gizmos you need to look positively envious / bilious. Don't forget to raise your glasses to Shiny. Cheers!
By Staff Writer | March 17th, 2008
---
---
---
---