- Mariah Carey
Historically, someone who is not a stranger to the old Photoshop hop, and who is probably better looking in your head than in full 1080p glory.
- Porn
When a sheen and a spank becomes a slick and a squelch, it's time to go back to YouTube quality.
- Kevin Bacon
He will never again look Footloose. He is now forever Hollow Man.
- Shiny Video Reviews
YouTube are increasing the quality of their video streaming? Noooooooo
It's a shame then, that Mariah Carey has chosen to release The Adventures of Mimi concert disc on Blu-ray. No good can come of this (except perhaps the Spike Jonze-directed mini-documentary that comes included).
Click on over for the full extent of the airbrushing according to Perez Hilton.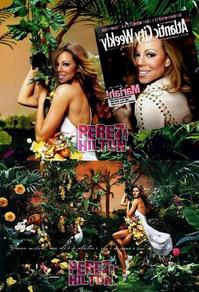 That's Gisele you see on the photo below. That's Mimi's face you see on the top photo. An amazing case of coincidental copying of the exact pose? We say not.
Into fitness and health gadgets? Check out our new site, Connected Health