It's not actually made of caffeine cos that would be weird. Neither is it coffee-flavoured chocolate. No, much like the theobromine t-shirt, this goes back to basic organic chemistry. Whether you're into coffee, tea or Coke, this necklace is designed to appeal to you. What I find most amusing is the comment on This Next saying "almost as cute as the serotonin necklace, but just as important!". We women do love our molecules, even for $85.
Like that? Read this: Palmers Caffeine Tights | xSport Portable Espresso Maker – for hiking caffeine addicts
By Staff Writer | March 27th, 2008
---
---
Must read posts: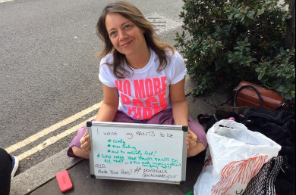 shinyshiny speaks to No More Page 3's Lucy-Ann Holmes...
---
---