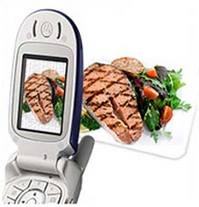 Getting weight loss text messages on your phone is nothing new, as nowadays everything from your DS Lite to the new miCoach phone from Samsung and Adidas is capable of helping you attain your desired body shape. None of them though have such a deliciously sounding name, so kudos to the creators of this service.
It's also free, which is a nice touch as not everyone wants to spend loads of money investing in a gimmicky product (Wii Fit- be warned). Sign up to the
Cell-U-Lite service here, and if you live in the States (sorry) you'll start receiving daily tips. Whilst nothing ground breaking they include things such as, 'Dining out? Plan ahead. Try to decide what you'll have before setting foot in the restaurant.', and 'Avoid portion creep. Measure your food servings a few days out of each month to keep on track.' It could be useful, or it could just make you angry and resentful, I don't know.
Like that? Read this: Sensei: weight loss on your mobile phone I Powerseed Electronic Weight Management Coach
By Zara Rabinowicz | March 12th, 2008
---
---
---
---