To me, this looks like a rubber iPhone case, which is always practical in protecting against bumps and scratches. However, further inspection reveals it to be a gold carbon fibre leather case, encrusted in 42 3.5 carat diamonds – with a slightly less practical price tag of £12,000.
Unsurprisingly, this is a made-to-order case, rather than something you'll be able to pick up at your local Carphone Warehouse. The leather is the kind you'll see in top of the range sports cars and Vertu-type phones, so is bound to be slightly softer than a baby's bottom.
Should you be in the market for such a *cough* photoshopped *cough* product, you can check out the Case Mate site here. And who knows, whilst you're there, you might buy one of their other products. Wouldn't that be something…
Like that? Read this: Vaja Crystal 2 for iPhone|Crystal Icing for your Macbook Air
By Susi Weaser | March 5th, 2008
---
---
Must read posts: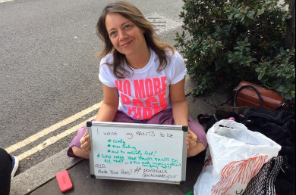 shinyshiny speaks to No More Page 3's Lucy-Ann Holmes...
---
---